An old friend who I haven't seen in 5 years recently visited Chicago. We've known each other for 13 years and, for as different as he and I are, we get on like a house on fire. He's a good fella and a great drinker – hell, he makes his living as a wine sommelier.  
What started out as two buddies having a few cocktails turned into a bro-fueled liver beating that would make even the likes of Bacchus & Ernest Hemingway blush, spanning over 7 hours at one of Chicago's most interesting bars.
The drinking carried on far past the 2AM bar closure, until a few ticks after 6AM – just moments before the sun rose over a freshly thawed Lake Michigan. 
With a full day ahead of me that I had to start at the wee hour of 7:30AM, I would be lucky to get an hour of sleep. (Which is far less than I actually got.) Instead, I slept restlessly for a half hour and woke up in a profoundly hungover, zombie-like state, forced to meet the world bright eyed-and-bushy tailed at this criminal hour. 
Turning Hangovers Into A-Ha! Moments
As I ambled into the nearest grocery store to acquire a cure for my sleep-deprived stupor and the impending hangover – Red Bull and a plate full of bacon & eggs – I notice something inside me had changed.
Past the gin-induced headache, I noticed that my 'filter' was gone, any fear I ever had about striking up a conversation and making a connection with someone was non-existent. I felt energetic and adventurous. 
I chatted up strangers outside the store, the fella behind the buffet, a shockingly gorgeous Persian woman in the produce section (*insert cucumber joke here), and joked around with the cashiers and clerks. The conversations were spontaneous, entertaining, and sparking with a certain raw energy.
Hell, two weeks later, I can still recall the details of every one of the interactions.
I digress.
Like most things in my life, what started out as being an embarrassment, a fuck-up, or just a generally ridiculous situation turned into a big insight. This hungover state of mind was so freeing that I had to sit down and unravel its secrets. I wanted to better understand it for myself and to share it with you so you can re-create it in your own life.
Let's dive in, shall we?
How Buddhist Monks & Improv Actors Can Help You Become More Spontaneous
Like many of you, I still sometimes hesitate to initiate a conversation, make a bold statement in a presentation, or express myself the way I want to. I do this – we all do this – for fear of being judged, ridiculed, or some other bullshit excuse. I'd bet everyone does this hundreds of times a day: we censor ourselves, no matter what our desire is.
Take a moment to imagine your life if you hesitated just 10% less…
What would your career look like? How about your relationships? Would you have a more intriguing social life?
There's a very simple, two-step exercise that, by practicing regularly, will have you develop a more spontaneous, expressive, and engaging personality. It's something I personally use every time I need to create more conversational spontaneity and be more bold in my communication.
Step 1:  Find Your Hesitation
First, at the root of all of this is you telling yourself "Keep Quiet", "Don't Say That", "You'll Sound Dumb", or something equally silencing. There's some voice, some impulse you have that is making you hesitate. 
The next time you're in a situation where you find your hesitation getting the best of you, pay attention to that voice that has you acting out of fear. Just notice what the fear is about and how it's cropping up. There's a simple exercise you can do to learn this.
This exercise has its roots in the Buddhist practice of Mindfulness Meditation. To learn more about mindfulness, check out my post on transforming your shyness with Mindfulness Meditation.
Now, there's a subtle distinction here. I'm not telling you to not think the thought that tells you to keep quiet and play safe. Don't demonize yourself or act like it didn't happen or try to push it down. You've been hesitating and editing yourself for years – you can't just will this out of existence. That's not how things work.
Acutally, on-going suppression of these thoughts and criticisms (known to therapists as 'thought stopping') has actually been proven to be counterproductive. Psychologist David Wegner found that continued suppression of a negative thought caused a rebound of equal or greater magnitude of these thoughts once the 'thought stopping' exercise was stopped. So, not only does it not work, you might actually be worse off in the long-run for trying to ignore your thoughts.
Simply notice the hesitation and look at what came before it. 
(Here's a hint: it didn't come out of nowhere. The hesitation came from a real desire to express yourself, say something, connect with someone.)
Think of the main areas where you hesitate socially the most. Do you 'fly under the radar' during work presentations and meetings, so you don't have to speak up? Are you nervous and shy at parties or bars? Do you 'clam up' around someone you're attracted to?
Just start to notice when you hesitate in these situations. There's nothing else to do here, just get a feel for how & when your shyness and doubt crops up. Do this for as long as it takes for you to really understand how your fear works – it might take an afternoon, it might take a month.
When you've got a razor sharp idea of how and when your hesitation crops up, you'll be able to see it coming a mile up the road and make a choice about your action, instead of letting your past behaviors control your life.
Step 2: Shout It Out Loud!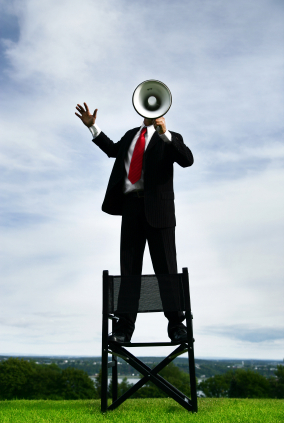 Chicago – my current home – has a rich tradition of well-known actors who got their chops at one of our renowned improv schools, such as Second City. Living here, I've taken a few improv courses and they've been incredibly effective in helping me become a more bold and expressive communicator. 
When you take an improv class there's a handful of agreements the teacher makes you agree to. They ask for all students to follow these rules for every scene. And, unlike the rules that most teachers give you, these are actually useful and make things more fun. Every teacher has a different list but they are all related and reflect the same few ideas.
It dawned on me one day that some of these rules are also incredibly useful for becoming a more charismatic speaker. Once you know what kind of social situations or conversations you hesitate in, you can start to use these rules in the moment to inject more fun and spontaneity into your communication:
"Yes, And…"

:  This is the most important rule of improv (and spontaneity!). If there's one rule you play by, make sure it's this one. Before you hesitated, there was something you wanted to do, something you were excited to say, something that you were passionate about. Say "Yes" to that desire. Open your mouth and say it. Take action. For any fear or anxiety you might have, actually doing it makes it feel that much more invigorating.
"Add New Information"

:  Once you've acted, you have to keep the interaction moving forward. This is the "And" part of "Yes, And…". This is where you take what was once just a simple idea and start to expand upon it, creating a whole story. Continue to riff on the thoughts and ideas you've put forth. Go into more detail about what you've said. Say why you feel the way you do. Relate a story in your life to what you've just brought up. Pass it back to them and ask them about their feelings on it. 
"Focus on the Here and Now"

:  This is a simple matter of being Present, both in your mind and how you're focusing on the people you're speaking with. This is the time to be curious and engage with them; it is not the time to mess with your iPhone or think about what you're going to say next. The most important thing here are the people in front of you and the conversation you're creating together. (If you're having a particularly hard time with this, I'd recommend you read "The Power of Now" by Eckhart Tolle.)
"Sooner is Better than Later"

:  This is quite simple and, in many ways, wraps up the whole thrust of this article. When you have an intriguing idea or desire to contribute, do not hesitate – share it now! Tell the story vividly, fiercely, and directly – there's no need to beat around the bush and hint at it. (But, don't interrupt – that's what assholes do.)
The basic idea of Step 2 is to take action now – hesitating, waiting, or never contributing in the first place does nothing for your ability to build new relationships, connect with people, or share your great ideas. It only creates an attitude of greater fear and anxiety. Speaking courageously and spontaneously seems like a bold – sometimes flat-out difficult – proposition but it really comes down to taking immediate action on your desires and motivations. 
And, if you take nothing else from this article, remember the words of ancient Greek poet Virgil, from his perennial work The Aeneid : "Fortune Favors The Bold!".
Peace & Charisma,
Dalton K. Finney